Ripple and the SEC are locked in a legal battle and the outcome could either make or break XRP's price. Reports state that the court is likely to provide a judgment soon that might go in favor of Ripple. The Ripple v/s SEC lawsuit started in late 2020 after the SEC claimed that Ripple illegally conducted security offerings from the XRP digital assets. The ongoing legal saga has stunted XRP's price in the indices.
The Finder panel reviewed the pro and cons of the case and have published a new price prediction for XRP. The panel is a gathering of 55 industry experts who collectively conclude XRP's price.
Also Read: Cardano's Price Hits 22-Month Low: Can ADA Rise From Here?
XRP Price Prediction 2025: What Happens If Ripple Wins?
The Finder's panel surveyed the lawsuit and predicted that if Ripple wins the case, XRP might hit its peak of $3.81 by 2025. The crypto is hovering around $0.46 on Monday and has barely rallied in price in 2022.
However, the Finder's report predicts that if Ripple loses the case against SEC, XRP's price could be $0.98 by 2025. The panel predicts that the crypto will find it hard to climb above $1 if the SEC wins the suit.
Also Read: Ethereum Prediction: ETH Could Dip to $963 in 2022, Rise to $11,727 By 2030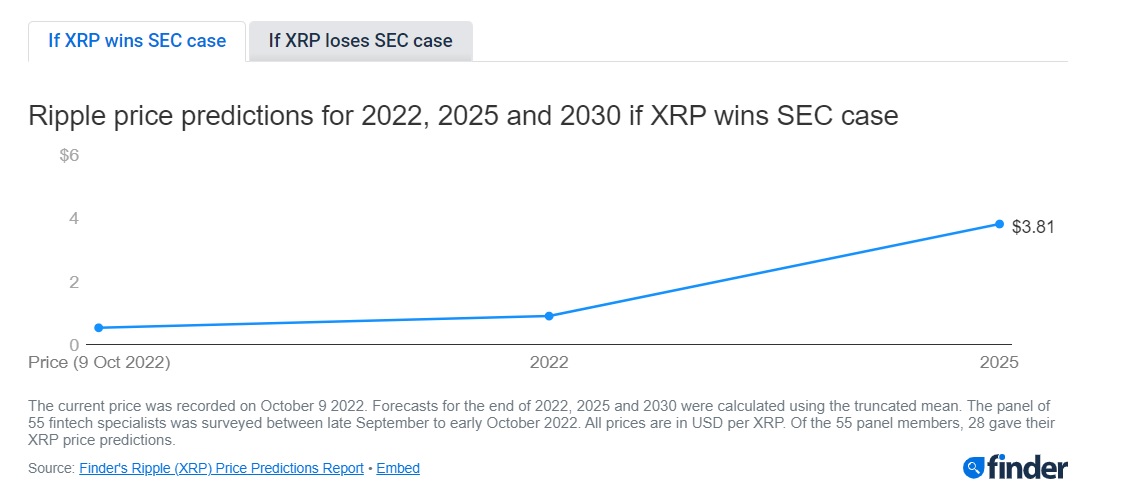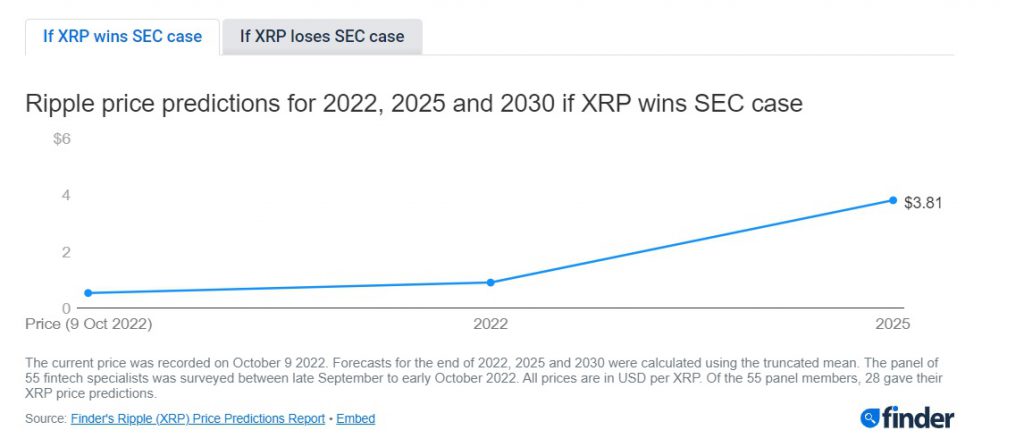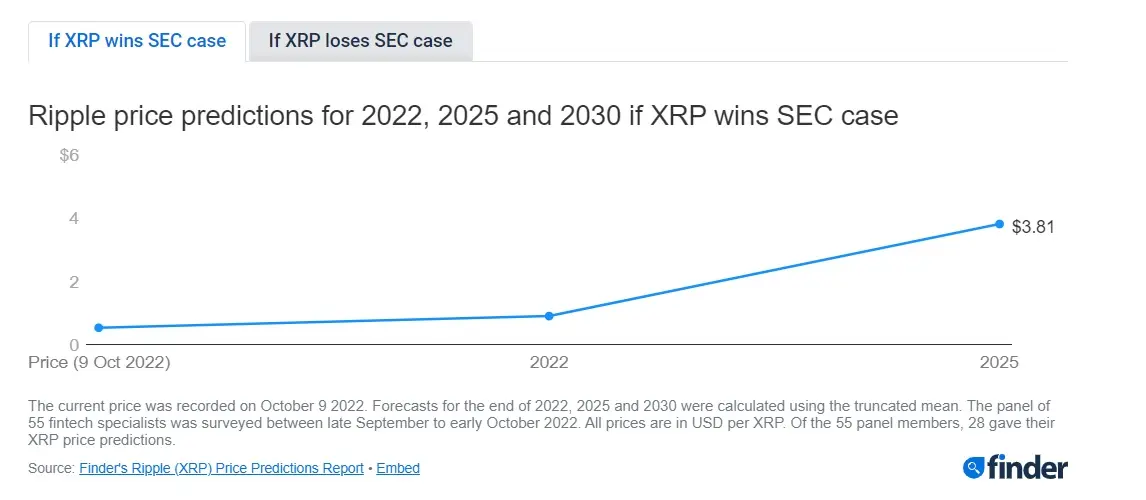 Therefore, XRP could trade in the backfoot for three years and not deliver the desired results in the long run.
Coming to 2022, the panel predicts that XRP could end at $0.90 in December if it wins the case. On the downside, the panel claims that the crypto could crash to $0.24 if the ruling goes in favor of the SEC.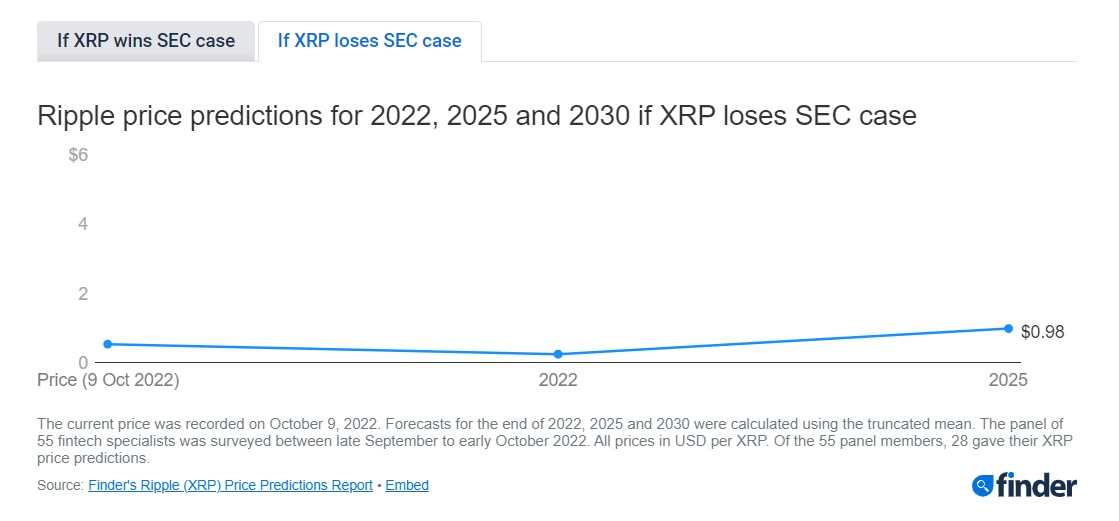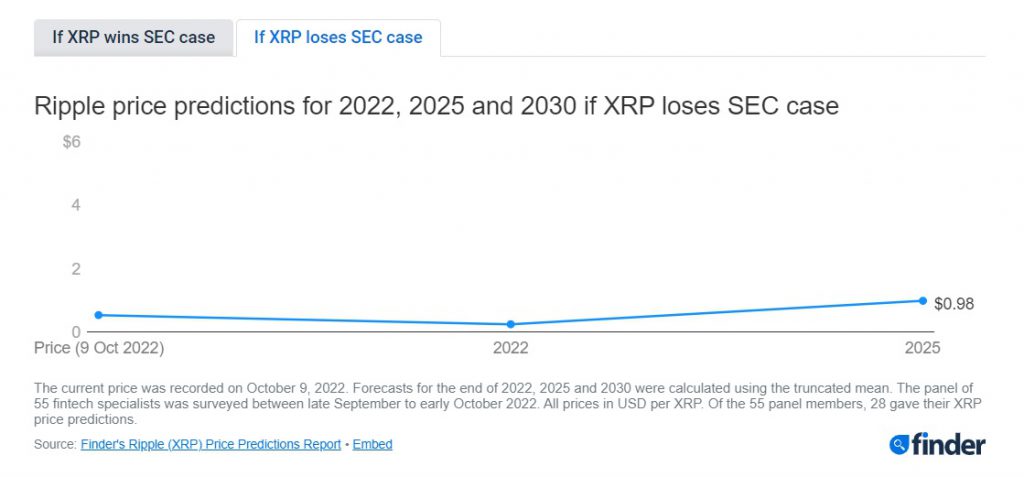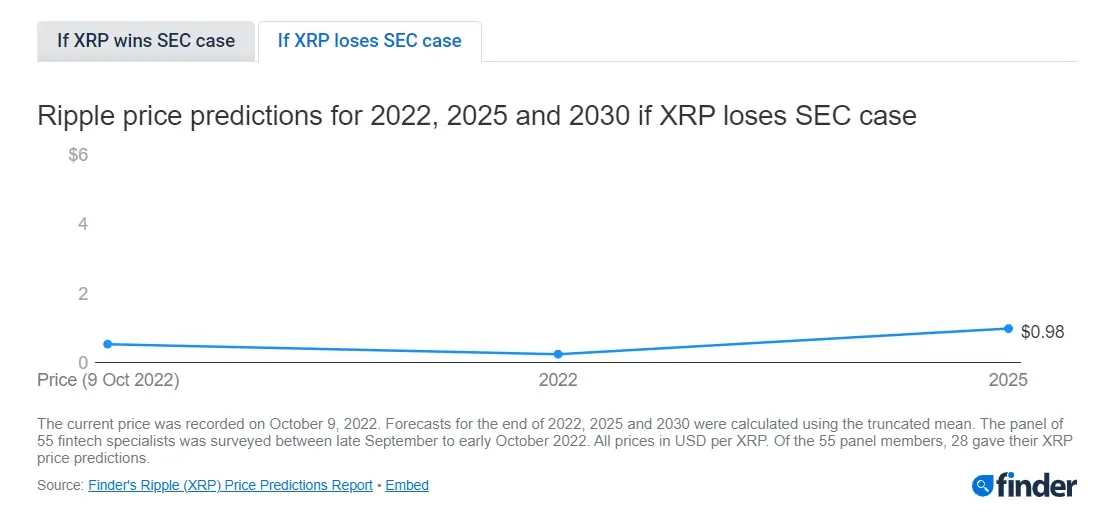 Also Read: Shiba Inu Falls to 4-Month Lows: Is This the Right Time to Accumulate SHIB?
In conclusion, XRP's price performance is solely in the hands of the law and the judgment can make or break the crypto. It is advised to remain cautious on XRP until the final court verdict is out. The crypto is at the cross-chairs that could swing both ways after the verdict.
At press time, XRP was trading at $0.46 and is down 3.3% in the 24 hours day trade. It is down 86.2% from its all-time high of $3.40, which it reached in January 2018.
Credit: Source link