On the 6th of June of this year, Binance Labs, the homegrown investment and venture capital unit of Binance, placed their trust in $CAKE- the native governance and utility crypto asset of PancakeSwap, by making a sizeable investment, the details of which are not yet fully revealed.
Buy Cryptocurrencies on Binance Exchange
Your capital is at risk.
A Brief History of PancakeSwap and Binance Labs
The BNB Chain-made decentralized exchange (DEX) is built with an AMM or automated market marker used for exchanging tokens such as the BEP-20. This well-assessed investment is in tandem with Binance Labs' new initiative to usher in the new wave of worldwide blockchain acceptance by supplying the right technical infrastructure, marketing and member support and business solutions relating to Web3 transformations.
PancakeSwap – Picture taken from Official Website
Initially introduced in the market around September 2020, PancakeSwap is one of the crypto dApp that witnessed exponential growth and has emerged as the largest competitor on the BNB Chain in terms of dApp with the number of active users crossing 400,000 on a single day.
Binance Labs is an initiative by parent platform Binance, which is aimed at financing projects, entrepreneurs and new units within the blockchain community. The investment is not only restricted to the financing alone but is a sheer commitment towards time, effort, brand-building and expansion.
Everything Known about Binance's Investment in PancakeSwap Till Now
The Chief of Binance Labs, Mr. Bill Qian, stated that he believed that PancakeSwap is the market leader in ensuring the mass adoption and development of the BNB Chain. Binance is generally sure of its investment in the dApp seeing as it is so popular and widely known and also boasts of having the highest TVL.
Qian continued to extend the venture capital's unconditional support and encouragement, positive that the collaboration would take PancakeSwap to new heights.
With a portfolio of close to 1,400 active dApps transcending various categories, a few being NFT, Metaverse, DeFi, blockchain games, etc., BNB Chain has dealt with more than three billion exchanges and transactions from over 164 million distinct accounts since its inception over two years ago.

Buy  PancakeSwap Native Token 'CAKE' Now
Your capital is at risk.
Positive Market Reaction after Binance's Investment
The market reaction around the announcement was palpable, as CAKE the native token rose up to 27% in the first 24 hours of the breaking news. The token, before the announcement, was listed at the rate of $5.50, but steadily climbed to an impressive rate of $7.00 afterwards.
This collaboration marks the introduction of an innovative and unique "PancakeSwap Mini-Program", which will be available for use on the Binance app, making it the behemoth crypto exchange's first large-scale DeFi project. This initiative will be kickstarted on the 9th of June, 2022 and will subsequently be available for use by all Binance App users soon.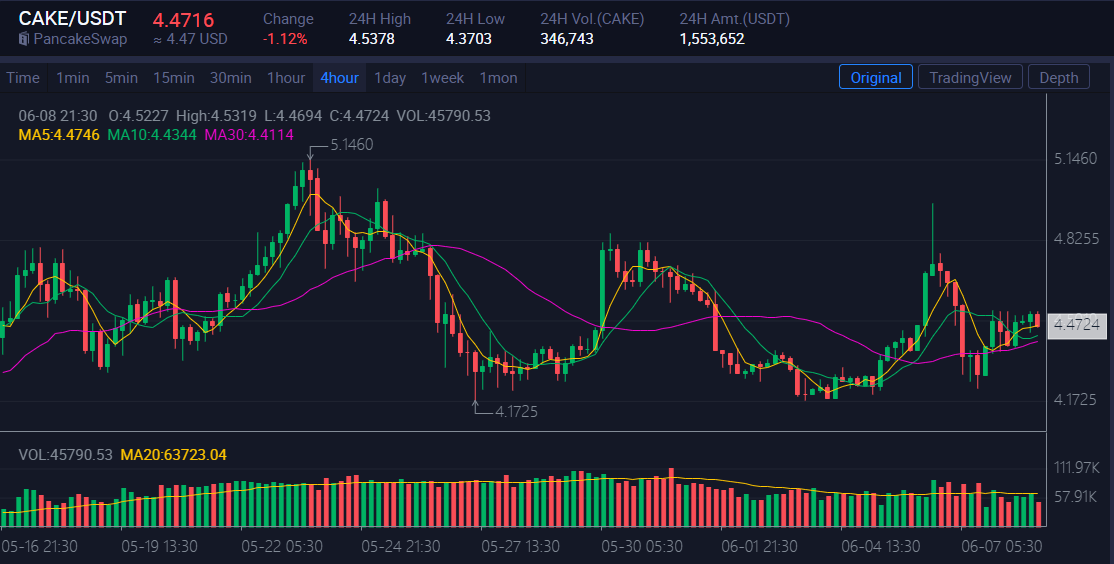 CAKE Token Price Chart on Huobi Exchange
The main focal point of the launch is to allow Binance users to easily avail the benefits of PancakeSwap through the use of the app, reducing the obstacles to DeFi access. In light of this announcement, Binance has also introduced a DeFi wallet, which will give users the opportunity to facilitate the transfer of funds and use dApps that are similar to PancakeSwap.
Buy CAKE on Huobi Now
Your capital is at risk.
CAKE reached its all-time high in April 2021, more than 85% of its small increment this past week, it definitely has a long way to go to surpass those numbers.
Blockchain analytics service Nansen has provided data stating that holistically, the current trading volume of the BNB Chain-based model is still small in comparison to its performance in 2021. However, the collaboration is still hot news in the market, and the news will definitely garner the interest of more investors, gradually.
Read More:
Lucky Block – Our Recommended Crypto of 2022
New Crypto Games Platform
Featured in Forbes, Nasdaq.com, Yahoo Finance
LBLOCK Token Up 1000%+ From Presale
Listed on Pancakeswap, LBank
Free Tickets to Jackpot Prize Draws for Holders
Passive Income Rewards – Play to Earn Utility
10,000 NFTs Minted in 2022 – Now on NFTLaunchpad.com
$1 Million NFT Jackpot in May 2022
Worldwide Decentralized Competitions
Cryptoassets are a highly volatile unregulated investment product. No UK or EU investor protection.
Credit: Source link