The price of decentralized oracle network Chainlink hit record highs in May 2021, with its novel concept winning the confidence of many investors around the world.
The project aims to bring interoperability to the blockchain space by enabling a seamless flow of real-world data to blockchain networks. It quickly rose to the position of the second most value-securing form of decentralized consensus across the DeFi economy.
This promise and potential, besides a recent uptrend in price must be taken into consideration when investing in LINK, Chainlink's native token, which holds strong long-term growth prospects.
What is Chainlink?
Chainlink is a decentralized 'oracle' or data provider network that relays off-chain data to smart contracts, allowing contract implementation based on real-world inputs and outputs.
This is leading to the development of 'Hybrid' smart contracts, where blockchain networks otherwise tightly secured by distributed consensus mechanisms are connected to the accelerating data and API economy.
Sergey Nazarov and Steve Ellis developed the network in 2017, and it soon became the market leader in the blockchain oracle space.
Chainlink secures data from blockchain networks that are decentralized, trustworthy, and tamper-proof. It also has a functioning network of nodes to share information between blockchains, which has evolved over time into a significant smart contract breakthrough.
In 2021, the total value secured (TVS) for Chainlink oracles topped $75 billion, a 10x increase over the previous year. The protocol has caught the interest of various trusted data suppliers and multinational organisations, including Google cloud platform, AccuWeather, Amazon Web Services, and others, due to its integration of off-chain data with secure blockchains.
Buy LINK on eToro
Your capital is at risk.
Multiple Use cases of Chainlink: Strong Growth Potential
The blockchain oracle's integrations feed into thousands of DeFi applications, bridging the gap between traditional and crypto finance. Put simply, Chainlink acts as a middleware solution for retrieving data from outside a blockchain database and integrating it with the latter.
This ground-breaking technology is applicable in the widest possible areas one can imagine:
Employing satellite imagery in the military for information gathering
Initiating insurance payouts
Global trade
Direct transactions that cut out intermediaries for post-trade processing
Paying workers or getting paid in real-time for services rendered
Voting during elections
Trading on gaming platforms, and so on.
Besides, the network of decentralised node operators that make up Chainlink is financially rewarded for reaching a consensus on data dependability. Abusers are punished for playing unfairly, and their data is rejected before the rest of the network can agree on it.
This aspect of decentralization of the Chainlink network is what makes it so secure. Chainlink can connect a smart contract with any other smart contract, APIs, bank payment systems, and other external sources.
Chainlink Price Forecast: Positive Development Awaits
The current Chainlink price is $8.65, with $633 million in 24-hour trading volume. In the last 24 hours, Chainlink has gained 11.31%. The current market capitalization is $4.04 billion dollars.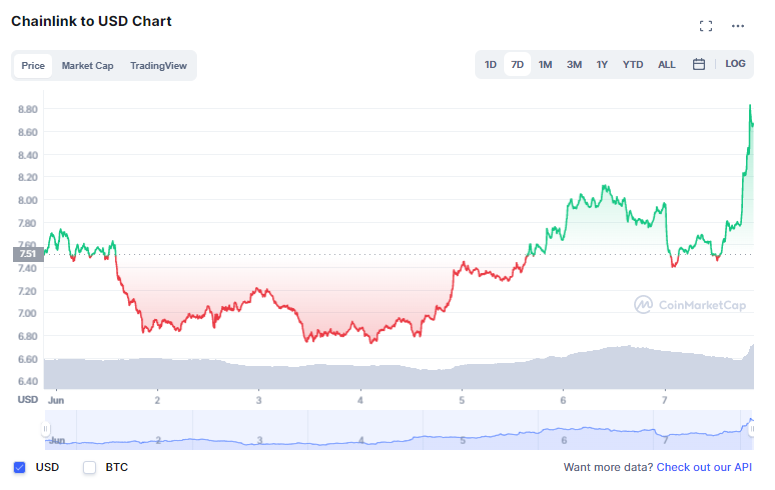 There are 467 million LINK coins in circulation, with a total quantity of 1 billion LINK coins. The cryptocurrency's all-time high price was $52.20 in May 2021, when it was part of the crypto rally.
Chainlink Price: Short Term Analysis
The price of LINK is rising, according to short-term technical analysis. Furthermore, on-chain indicators indicate that there are no noticeable roadblocks in the way of this upward trend.
Besides, this year has seen a constant stream of Chainlink integrations, including partnerships with the biggest brands in DeFi as well as Microsoft and IBM integrations.
Chainlink Price: Long Term Analysis
A deeper look into the long-term potential of the coin has more promise to offer. The project has been largely successful and is currently facing the brunt of the overall temporary slowdown of the crypto market.
Chainlink helps to clean up the internet by filtering out misleading or erroneous info. It is transforming the financial environment by reimagining financial contracts, and its decentralized oracle network is ushering in the fourth industrial revolution.
Google, Gartner, Binance, AAVE, and several other significant organisations have already benefited from the project. Chainlink has also collaborated with Swift, Gartner, and IC3 and was the first to establish a network of dependable decentralized oracles that gives the company a significant competitive advantage in the future.
Chainlink has made significant progress, and its crypto coin LINK has grown in popularity with time. Chainlink is expected to rise in the future, but we should keep in mind that the asset is currently facing strong resistance.
Read More:
Lucky Block – Our Recommended Crypto of 2022
New Crypto Games Platform
Featured in Forbes, Nasdaq.com, Yahoo Finance
LBLOCK Token Up 1000%+ From Presale
Listed on Pancakeswap, LBank
Free Tickets to Jackpot Prize Draws for Holders
Passive Income Rewards – Play to Earn Utility
10,000 NFTs Minted in 2022 – Now on NFTLaunchpad.com
$1 Million NFT Jackpot in May 2022
Worldwide Decentralized Competitions
Cryptoassets are a highly volatile unregulated investment product. No UK or EU investor protection.
Credit: Source link