Despite being in a bear market, Ethereum adoption continues to grow. On Thursday, the number of addresses HODLing the asset crossed the 87 million mark, justifying the said narrative.
As illustrated below, the number of non-zero addresses noted slightly deviated from their uptrend in mid-2021. However, it was quick to get back on track and continue rising, even with the asset not faring well on the price front.
Alongside the rise in the number of non-zero addresses, the number of active addresses has also been on the rise. Per data from ITB, the said metric has noted an incline of 6.2% over the past week, indicating the rise in direct participation by users.
Ethereum Price Front
Despite the rise in the number of ETH HODLers and active participants, the trading crowd has been steering away from the largest altcoin of late. As illustrated below, high Ethereum crowd interest has more often than not led to price drops. On the other hand, low crowd interest pertaining to Ethereum paves the path for a "higher likelihood" of bounces. Elaborating on why crypto on-chain data analytics platform Santiment tweeted,
It appears the trading crowd has turned their interest to other coins, leaving ETH prices to rise with much less resistance and expectation than usual.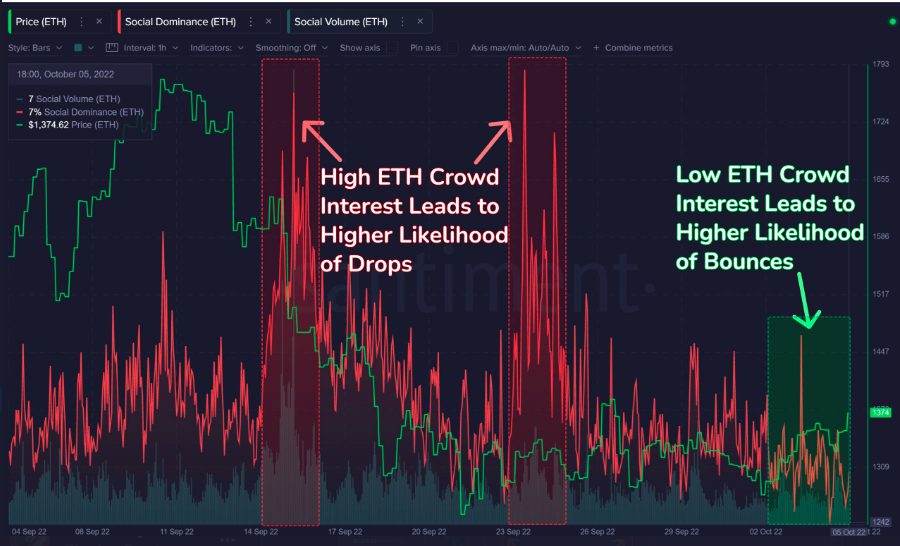 Over the past fortnight, Ethereum has been trading above its support around $1250. It took off on 4 October and has currently room to rally up to the psychological $1500. Around the said level it will be tested by two averages—the 50 and 100 MA on the daily [$1497, $1495].
From thereon, however, the path might get tricky. Data from ITB revealed that at an average price of $15.4k, roughly 3.8 million users have stacked up a whopping 19.8 million tokens. Given the fact that ETH had been consolidating all this while, the said users will be tempted to cash out when they break even, making it challenging for the price to advance further.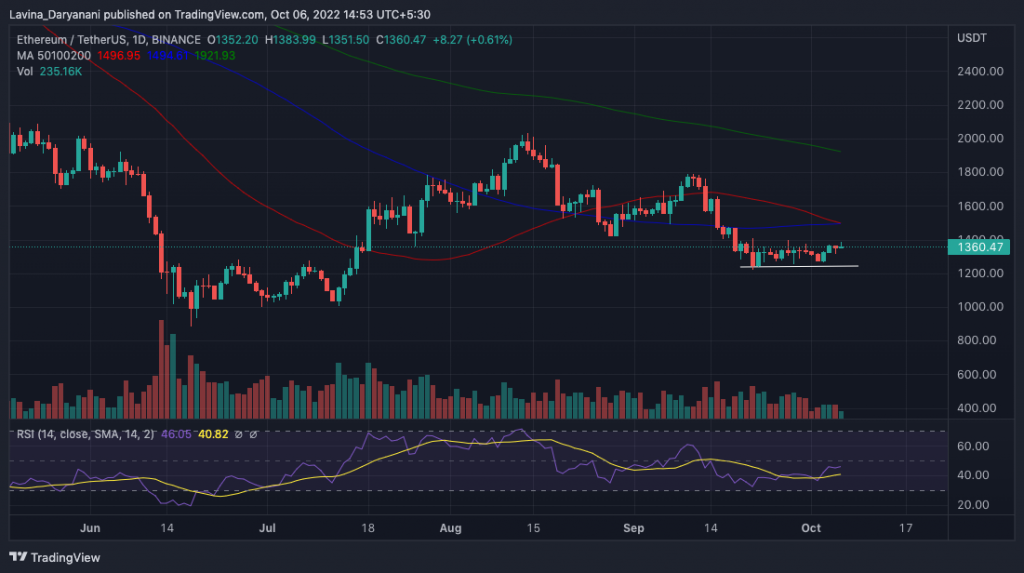 Credit: Source link