GMX token has been one of the top performers over the past day. After appreciating by 20.21% in the past 24 hours, this DeFi token was priced at $49.01 at press time.
Well, the token has not rallied out of the blue. Just a day back, it got listed on a host of top exchanges including Binance, FTX, Crypto.com, and Bitget. Listings usually act as catalysts to elevate asset prices and the GMX token embodied a similar effect.
There's More to GMX's rally other than listings
Until recently, GMX was a token that was hardly spoken about by people from the industry. Now, over the past day, it has managed to take center stage. The token might have been brought back to life because of the listings. However, there seems to be more to the GMX ascend.
GMX is a decentralized exchange where investors can buy and sell tokens on the platform using smart contracts. As other DeFi protocols saw their total value locked shrink over the past few months, GMX's TVL has grown consistently. As illustrated below, the curve has only been inclining since mid-June and it currently stands at a level as high as $460 million.
Even prior to the listings, this DeFi protocol was faring well. For instance, let's consider the revenue front. One of Delphi Digital's recent tweets brought to light that GMX was a part of the top 10 list on 3 October. It earned more revenue over the past 180 days when compared to its counterpart protocols like SushiSwap and Synthetix.
The rising revenue is an indication that its adoption is on the rise and more users are using the GMX platform.
Alongside, GMX has also carved out a niche for itself in the decentralized perpetual market. Elaborating on the same and drawing parallels with dYdX, the co-founder of global crypto assets platform Xangle recently tweeted,
"GMX has been a solid number 2 in the decentralized perpetual market for a while surpassing Perpetual Protocol's market volume. Whereas dYdX's trading is still based on a centralized order book, GMX introduces vAMM based on Oracles."
Another reason why users from the space are hooked to GMX is because of the rewards it offers to its token HODLers. The same has rubbed off positively on the asset's price. Elaborating on the same, the Xangle executive added,
"GMX token holders receive 30% of the protocol revenue for staking. This fundamental asset value led to strong price resistance despite the recent bear market conditions."
The token's rally over the past day has, undoubtedly, been noteworthy. However, when zoomed out, it can be seen that the token has rallied by roughly 583% from its June lows to yesterday's high, indicating that GMX is not essentially witnessing a hype-induced rally. It is currently in a very strong position fundamentally as well.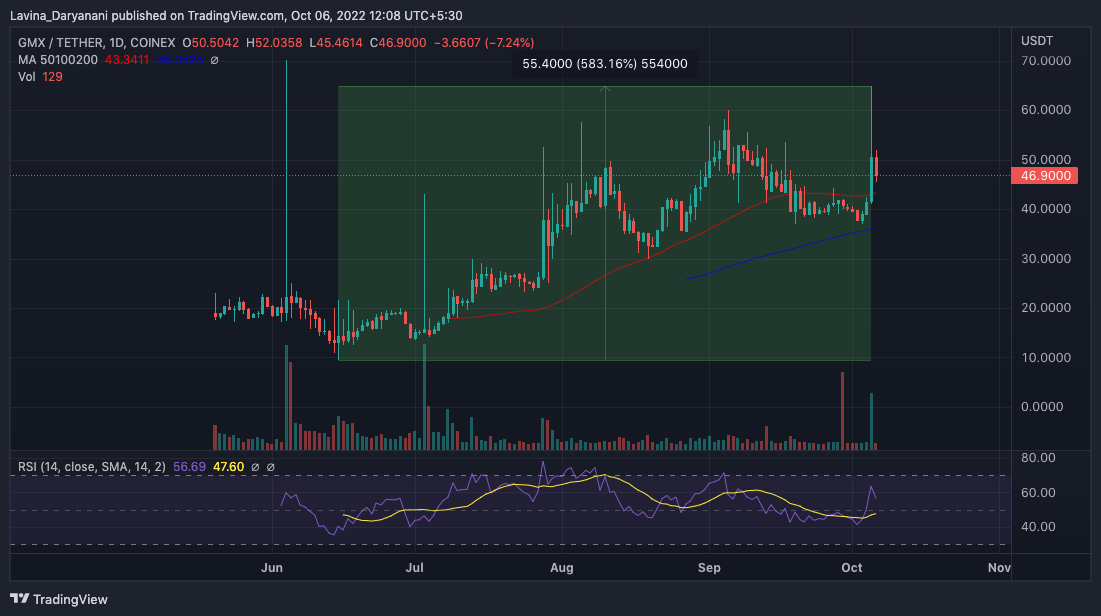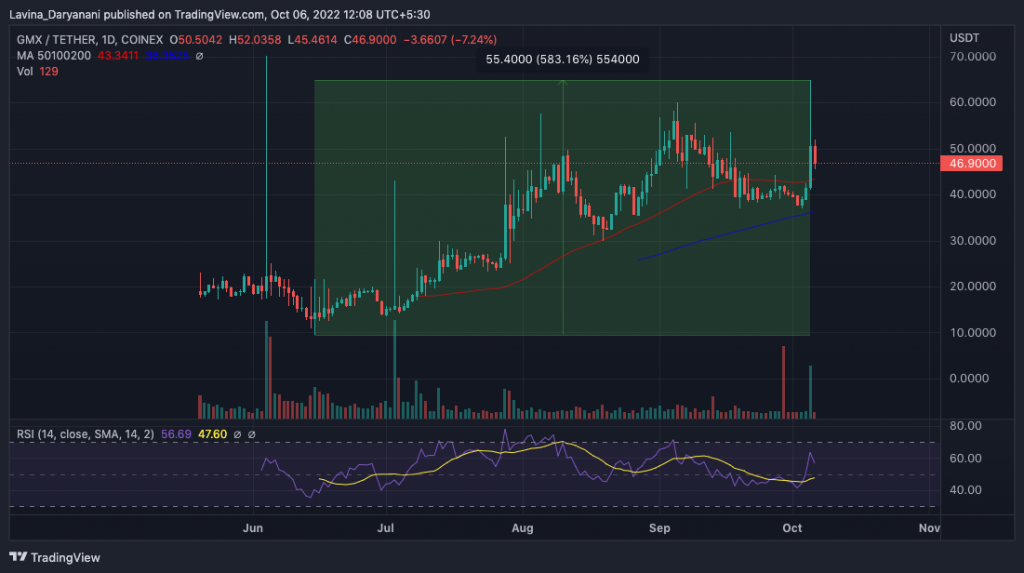 Credit: Source link