Towards the end of September, the largest crypto exchange Binance de-listed all USD Coin [USDC], TrueUSD [TUSD], and Pax Dollar [USDP] denominated trading pairs. Right after that, it officially started auto-converting deposits into the exchange's native stablecoin BUSD. 
The said 1:1 conversion measure was taken to enhance liquidity and capital efficiency for the users. The delisting and conversion, however, impacted the market share of volume across all global exchanges. 
A recent analysis from Kaiko revealed,
USDC, as of now, has seen a considerable drop in market share for BTC vs. stablecoin transactions, falling from 2.79% to just .5%, which shows that Binance accounted for a majority of USDC volume on centralized exchanges.
On the other hand, since the auto-conversion, BUSD's global market share—when compared against USDT and USDC—has increased from ~20–21% to 26%.
The auto-conversion was executed after USDC's market capitalization tumbled below the $50 billion benchmark for the first time in months. Even though nothing can be claimed with surety, joining the dots does provide a compelling picture. Alongside, subside noted with respect to DeFi-related activities could have also played a role in shrinking USD Coin's market cap. Elaborating on the same, Kaiko's report noted,
While it certainly seems like the events are related, it is more likely linked to a broader drop in DeFi activity, considering USDC is the most popular stablecoin in DeFi.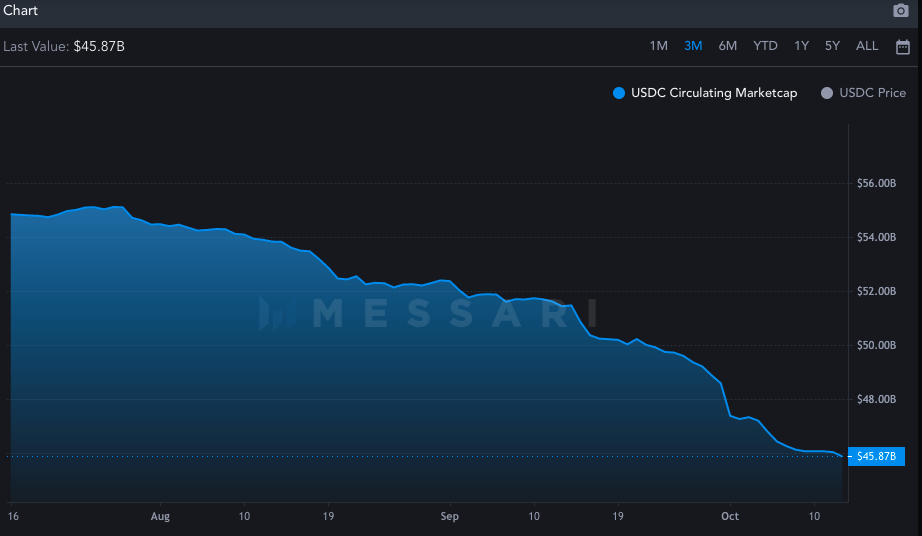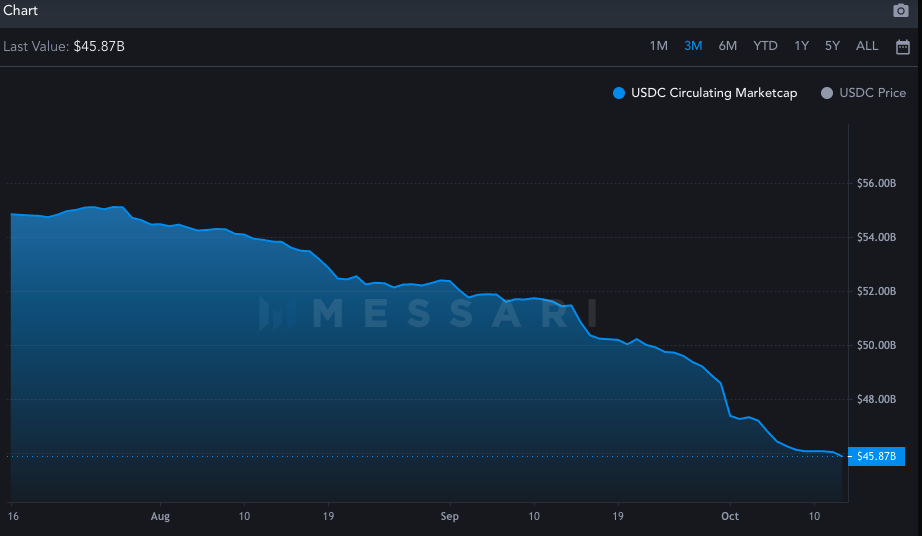 Was Tether benefited from all this?
The effects of auto-conversion did not essentially rub off on liquidity. The spreads for USDC pairs were consistently higher than their BUSD/USDT counterparts before the conversion. In fact, they spiked on September 28, a day before the new mechanism was executed by Binance.
Conventionally, Binance USD and Tether should have benefitted from the conversion. However, as illustrated below, there has hardly been any change in the bid-ask spread for BUSD and USDT pairs. Kaiko noted,
BTC-USDT spreads are about half that of BTC-BUSD, while ETH-BUSD and ETH-USDT are again nearly identical.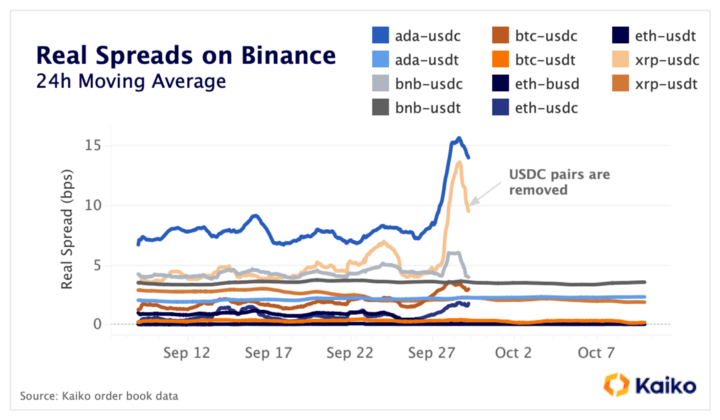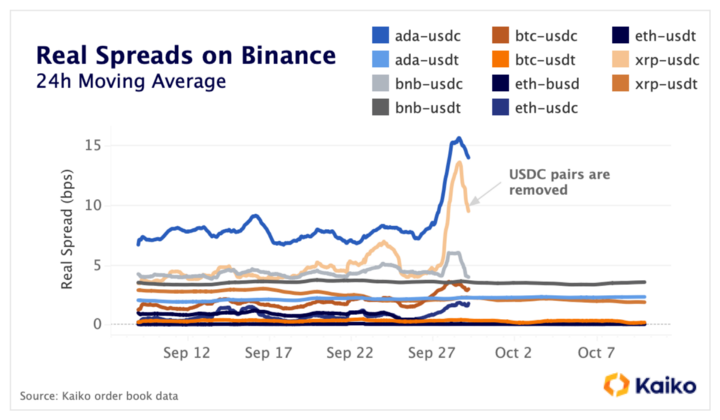 Even though market participants have not essentially been diverting their Tether into Bitcoin, and Ethereum at this stage, it is interesting to note that they've been adding the said stablecoin to their stashes.
Data from Santiment revealed that shark and whale addresses have been buying back some of the USDT that they dumped from late 2021 through the end of July. As a result, the value owned by $100k-$10m addresses has been re-gliding towards the 30% mark.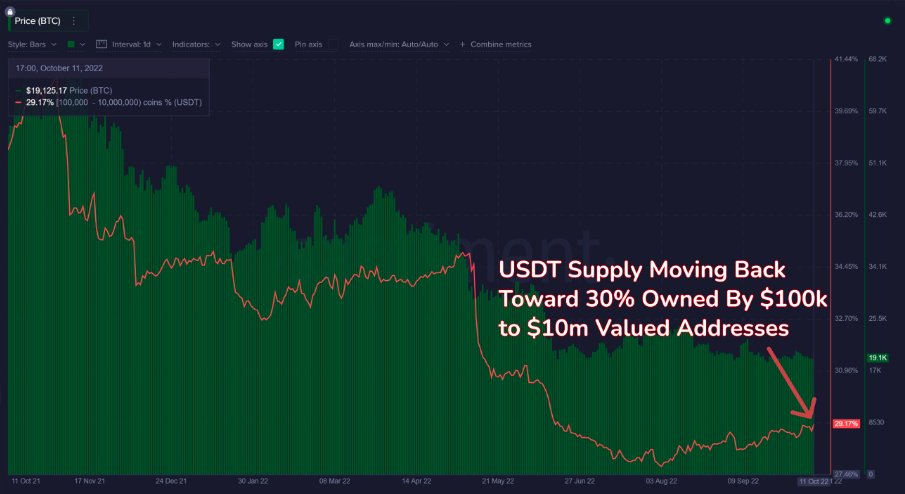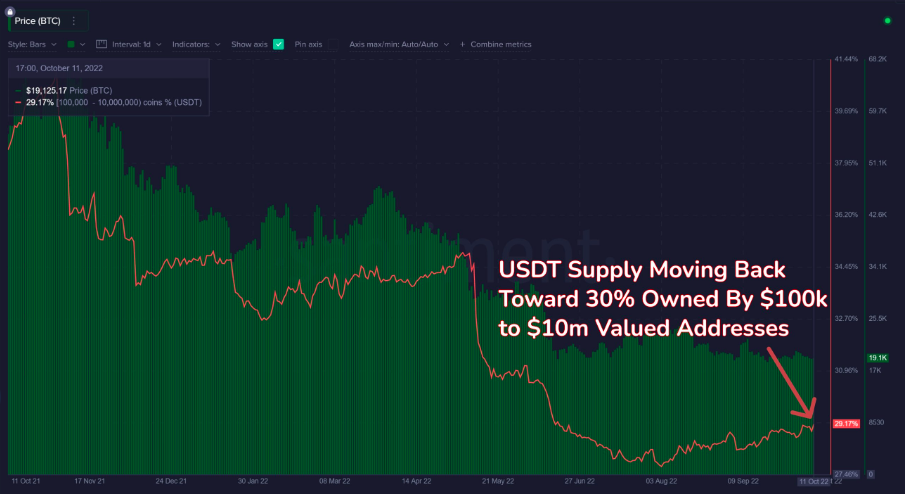 Credit: Source link