As a plan to resurrect LUNA from the valuation pit, Terraform Labs announced their plan to launch LUNA 2.0 in the third week of May. A major part of the community was in favor of this decision, which was taken as an immediate response to the LUNA crash.
It's been less than a week since the launch of the new LUNA token & the price has experienced quite some volatility. Investors and traders are keen on knowing where this new boat will take them, many are raising speculations over the price targets, and many question its utility.
Though the crash evaporated much of investors' money, there still seems to be significant interest in the market to opt for LUNA. And before we discuss why you should invest in LUNA and the price targets to expect, we would first understand how LUNA 2.0 – now simply LUNA, as referred to in the article moving forward- got created in the first place.
The Controversial History of LUNA
The previous LUNA token, now referred to as LUNC or LUNA Classic, suffered a liquidation crash that wiped out close to $40 Billion of investors' wealth in a matter of days.
The crash was a result of a sudden liquidation of UST, where $285 Million worth of UST was liquidated & this led to UST losing its alignment with the US dollar. Consequently, because of its pairing with the LUNC token, the price of LUNC plunged and the supply inflated.
Contrasting the previous supply of around 346 Million, the after-crash supply stood at a whopping 6.5 Trillion. A 18786x increase.
The price of LUNC plummeted to a mere fraction of a cent, from an all-time high of $119 just last month. Terra form labs did liquidate all of their Bitcoin to stabilize the price, but that was an effort in vain. As a result, the entire crypto market panicked- leading to a downward price trend in most popular cryptocurrencies.
The Sudden Fall of LUNA Coin in the month of May 2022
As the crash progressed, several popular exchanges decided to either delist LUNC or halt trading. Binance, eToro & FTX are few to name.
On 16 May 2022, Terra published a blog announcing the launch & distribution specifications of its newly formed token, LUNA. The collective sentiment of the LUNA community was fairly positive as more than half of them were in support of this decision.
The new token, LUNA, was said to be distributed through an airdrop- that later took place on the 28th of May. With a total supply size of 1 Billion, the tokens were to be distributed to specific users in particular ratios.
Binance announced its support for the airdrop and has successfully distributed the new LUNA tokens to the old LUNC holders. As of now, both LUNA and LUNC are available to trade on the platform.
Along with Binance, other platforms such as Bybit, Crypto.com, KuCoin & eToro either supported the LUNA airdrop or allowed for it to trade on their platform. Few did both.
Crypto.com & eToro had previously halted the trading of LUNA, given the crash. But as the new coin witnessed a price surge, LUNA began trading on eToro once again. Crypto.com, on the other hand, supported the airdrop, helping users receive their equivalent LUNA tokens.
Invest in LUNA 2.0 Now
Your capital is at risk.
LUNA Coin – Is it Dead?
The new Terra token, LUNA, went live on the 28th of May. Following its launch, the token traded at $18. However, the price soon witnessed a decline, bordering $5 the very next day.

On 31 May, Binance announced to support trading of LUNA on their platform in a tweet, and consequently, the price saw a raise. The price peaked, almost touching $12 on the same day, a close 97% rise in a day.
At the time of writing, the price of LUNA stands at $6.93, and the market cap is roughly around $1.5 Billion according to coinmarketcap.
With the hard fork, Terra has chosen to let go of its algorithmic stable coin & let LUNA operate independently. However, the old LUNA, now LUNC is still available to trade on Binance and also on the eToro Platform.
Buy LUNC via eToro Now
Your capital is at risk.
How High Would LUNA 2.0 Go?
As of now, the price of LUNA stands at $6.93. And this is why any predictions made regarding the price are highly speculative, given the narrow evidence of price movement & mixed market sentiment.
However, this is not to say that the speculations made can't be accurate. Under reasonable limits, a few technical estimates can give us a rough idea of where the price of LUNA is heading. And as obvious as it is, no, the price of LUNA won't touch its predecessor's ATH- $119 anytime soon.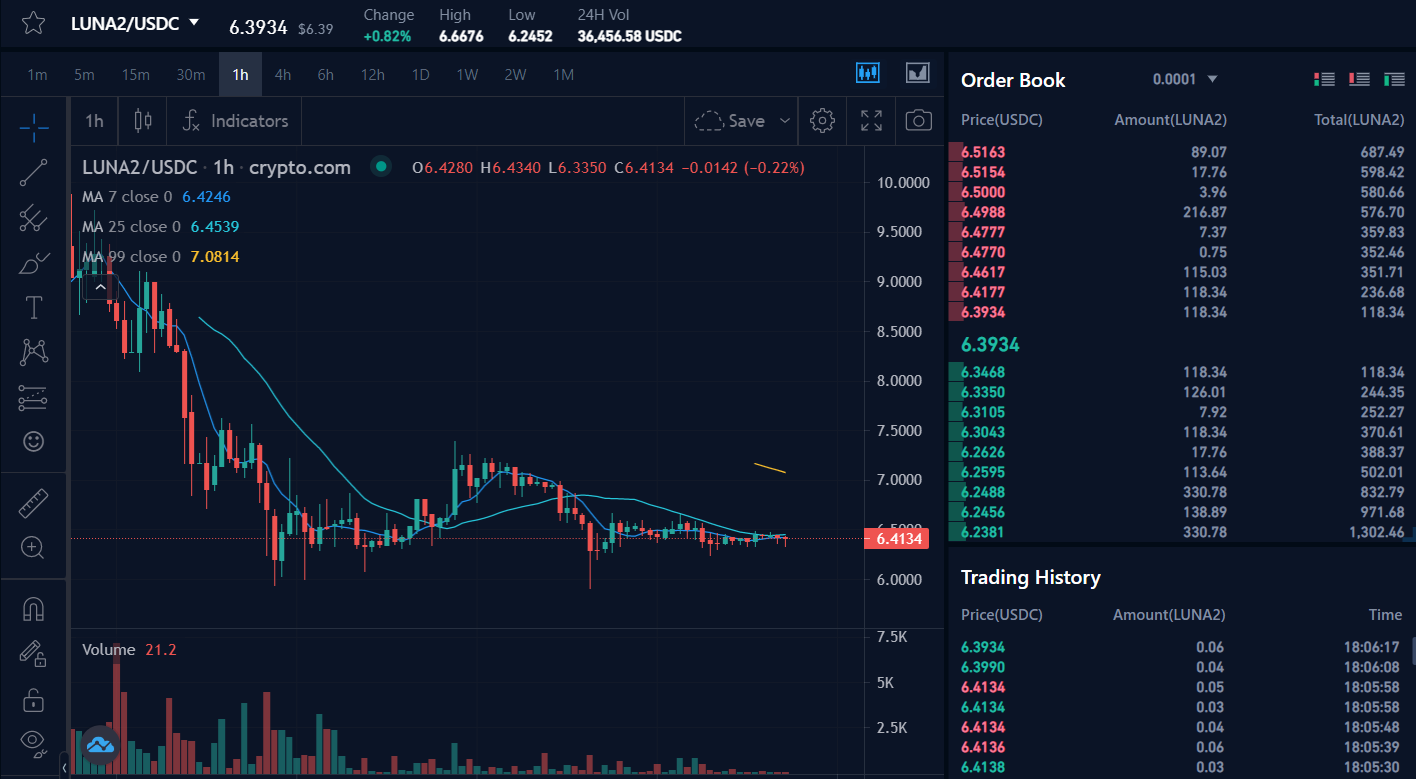 Crypto.com resumed Trading of LUNA2/USDC Pair 
Considering a bearish trend and the crypto market movement, LUNA is expected to touch a low of $0.15 and a high of up to $14. These estimates are in a range as for the little time LUNA has been live, it has been significantly volatile. And this is why making any fixed predictions isn't viable.
Buy LUNA 2.0 via Crypto.com Now
Your capital is at risk.
On a longer scale, however, a more tight estimate can be made. The price of LUNA can possibly reach $25 by the end of next year. Although that's the case, there's always the possibility that the price can trace a downward trend. An estimate of the same can be $2.
By 2025, the price of LUNA can get a significant boost as well. It all depends on whether or not LUNA manages to progressively attract developers' interest & host innovative projects onto its blockchain. If that's the case, the price can easily climb 3x of its current estimates. And possibly break LUNC's ATH over the span of a decade, but that's too vague of an estimate.
As of now, LUNA remains a relatively new asset & any investment decisions should be made with caution.
Read More:
Lucky Block – Our Recommended Crypto of 2022
New Crypto Games Platform
Featured in Forbes, Nasdaq.com, Yahoo Finance
LBLOCK Token Up 1000%+ From Presale
Listed on Pancakeswap, LBank
Free Tickets to Jackpot Prize Draws for Holders
Passive Income Rewards – Play to Earn Utility
10,000 NFTs Minted in 2022 – Now on NFTLaunchpad.com
$1 Million NFT Jackpot in May 2022
Worldwide Decentralized Competitions
Cryptoassets are a highly volatile unregulated investment product. No UK or EU investor protection.
Credit: Source link