On Tuesday it was revealed that the U.S. Securities and Exchange Commission was investigating Yuga Labs—the creator of the NFT collection Bored Ape Yacht Club—over the sales of its digital assets. Notably, the SEC is looking into whether certain NFT tokens are similar to stocks and if they should be subjected to the same disclosure rules. Alongside, the regulator is also examining the distribution of ApeCoin.
Bored Ape Yacht Club NFTs and Apecoin typically exhibited an outright 'monkey see, monkey do' reaction post the said revelation. This article will break down and examine the same.
BAYC
Most statistics related to BAYC's sales numbers seemed to be dented at press time. Data from CryptoSlam brought to light that the sales volume of the said NFT collection dropped by close to 26% over the past 24 hours. Simultaneously, the number of transactions executed also dropped by around 44%.
For reference, BAYC's counterpart MAYC—on the other hand—noted a sale inclination of 16% and a transaction rise of 29% in the same timeframe.
In fact, the floor price of the Bored Ape Yacht collection had also dropped to 75 ETH after noting a 4.3% decline over the past day.
Even though the price dropped, buyers steered away from the BAYC market. Data from CryptoSlam ascertained that in the past 24 hours, the number of BAYC buyers shrunk by 33.3%.
Apecoin
As highlighted above, BAYC was victimized after the SEC-related news broke. So, did APE follow suit?
Ape-solutely!
APE's short timeframe charts were characterized by a series of long red candles. From comfortably trading above $5.16, the APE's price slashed down to $4.6, resulting in an approximate 11% dip.
APE has been attempting to recover over the past few hours. Even so, it has not been able to negate its losses and continues to trade in red on a daily.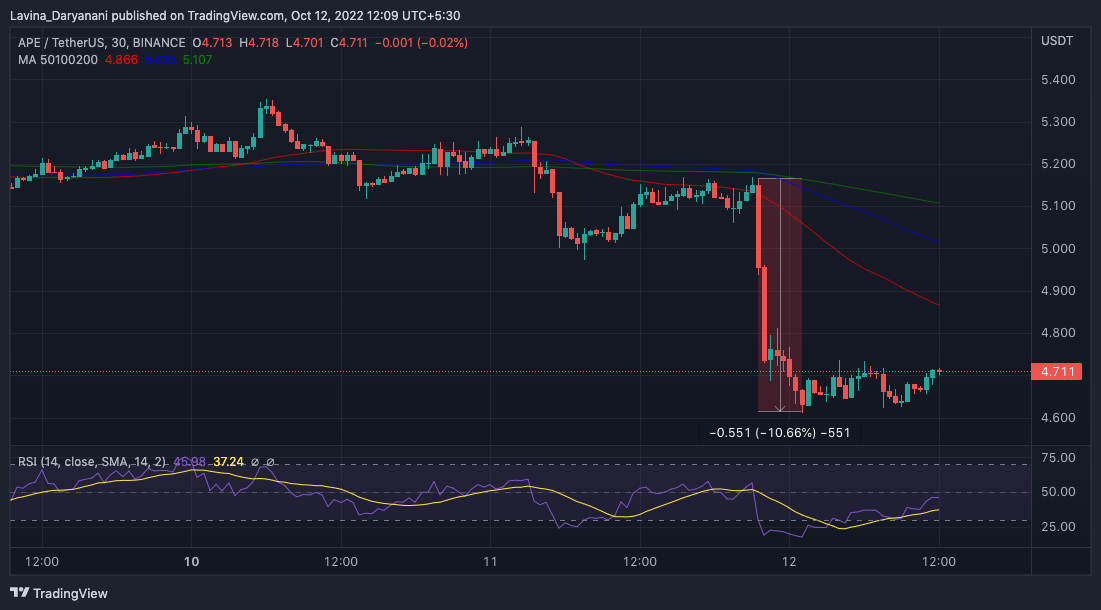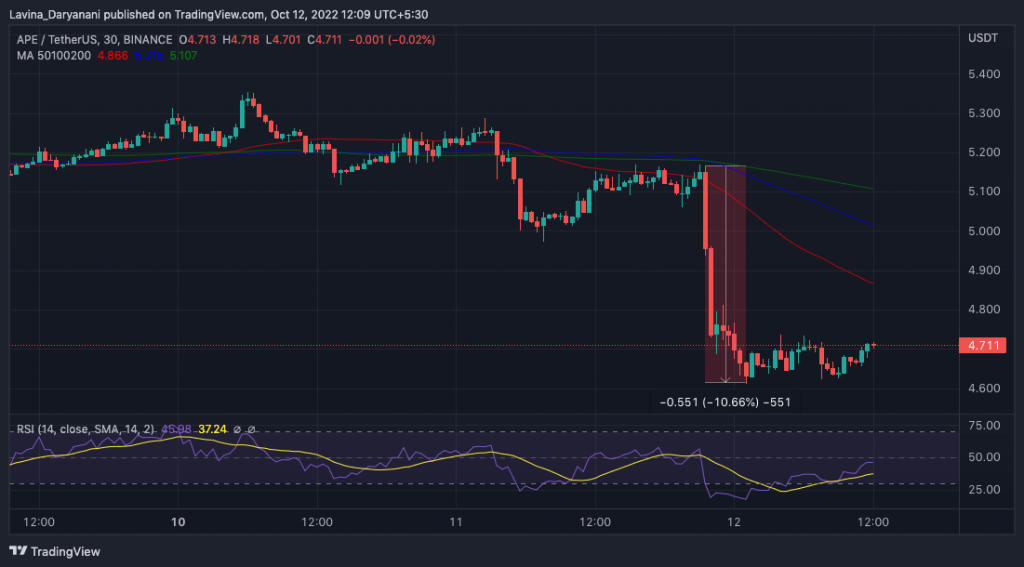 Owing to the abnormal price fluctuations, the Apecoin liquidations also mounted up. Over the past day, roughly 262k APE tokens worth $1.24 million were wiped out. Unsurprisingly, long traders were the ones who slipped and tumbled because of the SEC's banana peel.
Nevertheless, there's some optimism among community members and they're calling this an opportunity to stack the token at discounted rates. More so, because Apecoin staking is set to go live soon. Per people from space, staking is going to be "wild." The same is scheduled for 31 October for now. The date might, however, move left or right by a week.
Alongside, it should be noted that Yuga has not been accused of wrongdoing and the opening of an SEC probe does not necessarily mean that the agency will sue the firm. So, if macro factors cooperate, a recovery might just be over the horizon for, both, Apecoin and BAYC.

Credit: Source link