Join Our Telegram channel to stay up to date on breaking news coverage
Prices of cryptocurrencies like BTC, ETH, ATOM and XRP pumping now and then is something that investors have gotten used to lately. High volatility and unspeculative movements caused by various catalysts have been dominating the space for the past couple of months. Naturally, this has created a sense of doubt among the masses. Due to this, there has been a rather stagnant growth in terms of community engagement within the sector lately. 
After the 2021 bull run where the front runner crypto Bitcoin created its all time high of around $67,500, prices crashed considerably. Several projects saw a steep decline in prices; around 90% lower than their value a few months back. BTC too, plunged in value to around $19,000. With such uncertainty about the future price movements a number of investors have pulled out funds from the industry.
However, a huge chunk of the investing citizenry and major organizations have been using this time to stock up on assets. These are usually backed by strong fundamentals and may provide massive returns in the upcoming months again. Infact, several experienced analysts in the space have been predicting for the market altogether to see a reversal in prices soon.
Although, Ripple has been moving differently. Certain major developments in the project has already triggered positive and bullish sentiments for its native token XRP. The token has been pumping for over a week, and has been recording an increasing number of interested investors.
What is Ripple(XRP)?
Founded by Chris Larsen and Jed McCaleb, Ripple is a blockchain based digital payment network and protocol. Launched in 2012, this protocol with XRP as its cryptocurrency was the second-most popular project after Bitcoin. 
Ripple is primarily a payment settlement asset exchange and remittance system. It is similar to SWIFT, which is used by banks and financial organizations to transfer money and securities internationally, . This makes Ripple a powerful tool that can be used by anyone with complete autonomy of their funds. By serving as a kind of temporary settlement layer denomination, XRP serves as an intermediary exchange mechanism between two currencies or networks.
In short, Ripple operates on an open-source and peer-to-peer decentralized platform that allows seamless transfers of money, whether it's dollars, yen, or euros, or even cryptocurrencies, such as litecoin or bitcoin. Banks and financial services institutions are among the clients of Ripple's global payments network. To facilitate quick currency conversion between different currencies, XRP is used in its products.
Initially, the XRP was the second largest cryptocurrency. In 2018, XRP had achieved its all time high of around $3, making investors feel bullish on the project. However, right after it touched its all time high, XRP plunged in value drastically. Since then, it was trading in the $0.2 levels for almost 3 years. The next established uptrend for the token came during the 2021 bullrun. But this too, was negated by the crash that followed right after.

The longstanding legal battle
An SEC lawsuit was filed against Ripple in December of 2020, alleging that the sale of XRP – XRP Ledger's native token that powers the Ripple network – constituted an unregistered offering of securities worth more than US$1.38 billion. Furthermore, Ripple's CEO Brad Garlinghouse and executive chairman Chris Larsen were named as co-defendants for allegedly aiding and abetting Ripple's activities.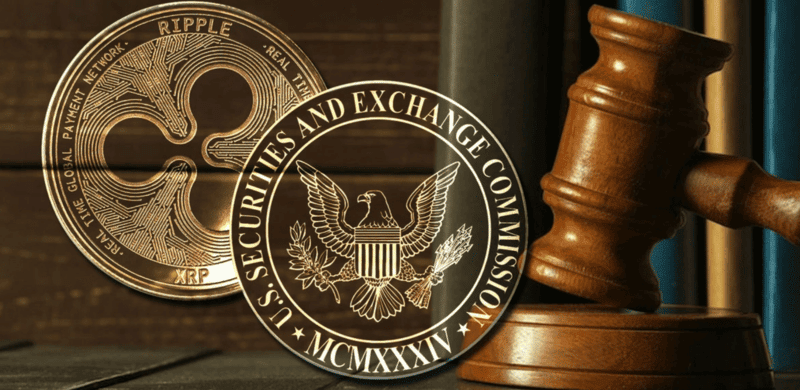 This was directly contested by Ripple, which claimed that XRP was infact, not a security at all. This fact along with several other accusations was addressed by Ripple with the help of solid evidence over the years. After more than 2 years of continuous debates and battle in court, both parties(Ripple and the SEC) filed for an immediate ruling in suit in September. 
This summary judgement means that the judge has to pass a verdict based on the existing evidence. However, fans of the cryptocurrency industry collectively have been showing massive support for the project. Several major organizations too, have appreciated Ripple for its lasting, but vital war to establish blockchain as a legitimate industry.
Why is XRP price increasing?
As mentioned above, Ripple had been in a legal battle against the SEC for several months now, leaving investors confused and in a state of fear. Naturally, this had major adverse effects on the token's performance, even during the 2021 bull run. Ideally, investors speculated XRP to shoot up in value last year. However, the liability of a case shadowed the growth of Ripple and caused several precious holders to sell their tokens. 
While XRP did increase considerably in price, investors expected more, which wasnt shown by the token. However, as the case nears an end, investors expect Ripple to win. This is because over the years, Ripple has publicly challenged every claim by SEC and has argued with points that seem to be more viable than that of the government body. This has to be one of the most important reason for the sudden spike shown by XRP.
This fact was accurately reported by Santiment in their tweet on 8th October. Santiment is a market intelligence platform with social & on-chain metrics for more than 2000 cryptocurrencies. The tweet stated that XRP had gained more than 2773 addressed within one day, which was the highest in the past three months. Essentially, this data suggests an increased adoption of the project as compared to the last couple months. 
What next for XRP?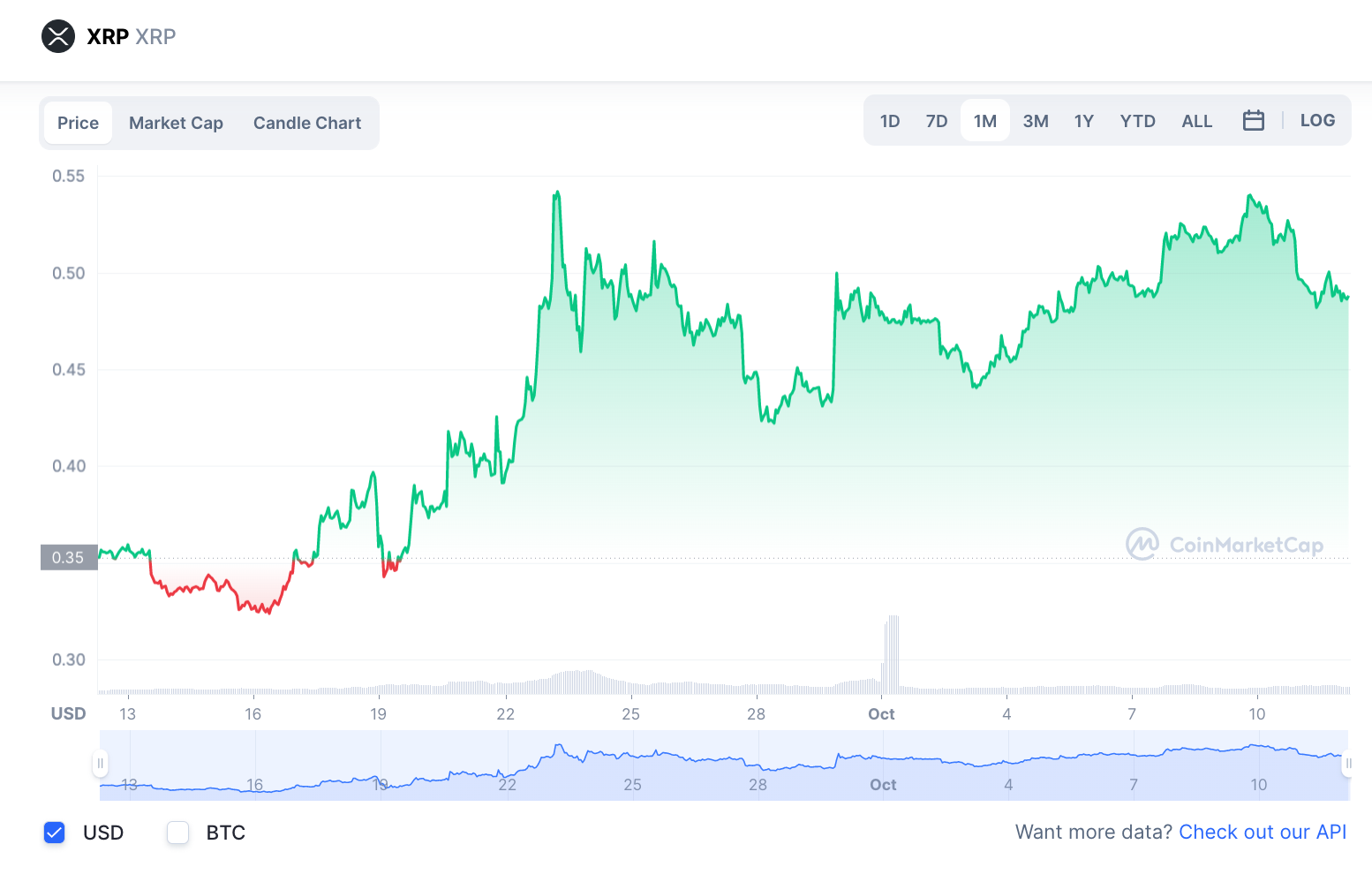 The community of XRP has been one of the longest and most dedicated among many others, as it was evident across every major social media platforms. However, the case between Ripple and SEC had gained huge popularity which had created a divide among the community. But Ripple winning the legal battle is expected to bring a huge chunk of investors flocking back to stock up on XRP tokens.
At the time of writing, XRP is trading at around $0.48, with a marketcap of more than $24 billion. This growth has been rather prominent since the last month, when the token was trading at around $0.31
Read More
Early Stage Presale Live Now
Doxxed Professional Team
Use Cases in Industry – Offset Carbon Footprint
Join Our Telegram channel to stay up to date on breaking news coverage
Credit: Source link